Welcome to the
Airman Heritage Foundation
---
The Mission of the Airman Heritage Foundation is to support the USAF Airman Heritage Museum and other heritage-related activities in preserving and honoring the history and heritage of enlisted Airmen and Guardians. To this end, the Foundation will:
1.Increase Awareness of the US Air Force and USAF Airman Heritage Museum in preserving and honoring the history, heritage, traditions, culture and legacy of enlisted airmen.
2.Educate current and future airmen and the general public about the US Air Force and the role enlisted airmen have played in the success of the greatest Air, Space, and Cyberspace Power in the World.
3.Create a learning and developmental platform to enhance the Character of current and future Airmen through information, education, and professional development.
4.Support the USAF Airman Heritage Museum by raising private funds and providing additional resources and financial support for those museum and heritage-related activities not fully funded by the Air Force.
Our Vision is to build a new (USAF Airman Heritage Museum) state of the art, learning resource, and development facility that will preserve and display the proud heritage, countless sacrifices, and significant achievements of enlisted airmen and be a source of education about their rich history.

Future museum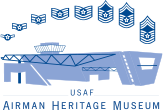 The enlisted Airman is the backbone of the US Air Force. Since the early beginnings of the aviation service in the 1900s, and even more dramatically so in current global environments, enlisted airmen have been pivotal in the defense of our nation. Today's Air Force mission to "Fly, Fight, and Win" would not be possible without the skillful, valiant, and unselfish contributions and sacrifices of our enlisted American airmen. Yet, there is no adequate place today for our nation to pay tribute to the proud heritage, tradition of honor, and legacy of valor of our enlisted men and women.