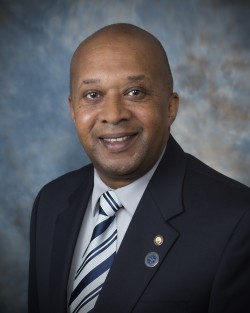 Fellow Members, Supporters, & Advocates of the Foundation;
Although COVID has presented itself as a greater adversary than anticipated, The Foundation's support of the dream is alive and well; by ensuring the gathering, documentation, and display of the history, heritage, traditions, culture, and legacy of Enlisted Airmen remains ongoing. But before I share a few thoughts regarding our journey this past year, let me first start this year's annual message as I always do by thanking the Board of Directors, Committee Members, Volunteers, all our members, advocates, and donors who have continued to support our cause of capturing and maintaining the most accurate account of the history, heritage, traditions, culture, and legacy of Enlisted Airmen and that it remains as our never-ending priority.
This past year, we said farewell to Leslie Palmer, our Strategic Planner and thanked her for providing a pathway to our goals and objectives, and watched the baton being passed from Mr. Bob Glenn who welcomed Mr. Ryan Ross, the new President and CEO of the Air Force Federal Credit Union, a trusted and valued partner.  We also recognized the need to have greater structure and order to maintaining our collection, so we added Ms. Alex Musa to our team as the Foundation's Curatorial Intern and asked Mr. Danny Sanchez to join the Foundation as a Board Member and Mr. Bob Glenn to be our first National Board Advisor.
During 2021, COVID-19 still restricted us from engaging in many of the activities and events this year, we still made significant progress in fine tuning our strategy, by enlisting the assistance of Dr. Jose Lugo-Santiago, enhancing our messaging, and solidifying our resolve in making this effort a reality.  Of which, you will receive updates in the committee reports as the meeting progresses and from a few of our guests in the audience today.
One of the significant highlights of this year was attending and participating in the Air Force Sergeant's Association Professional Education and Development Symposium and sponsoring the Awards to recognize:
First Sergeant of the Year 2020: MSgt Jose Pagan,
914 MXS, Niagara Falls ARS, NY
Base Honor Guard Manager of the Year 2020: TSgt Chamoi Frazer,
786 FSS, Ramstein AFB, GE
Base Honor Guard Member of the Year 2020: TSgt Stephen Duremdez,
375 CS, Scott AFB, IL
USAF Honor Guard Senior NCO of the Year 2020: SMSgt Kelly McKinley,
USAFHG, Bolling AFB, DC
USAF Honor Guard NCO of the Year 2020: TSgt Casey Randolph,
USAFHG, Bolling AFB, DC
USAF Honor Guard Airman of the Year 2020: SrA Matthew Sanchez,
USAFHG, Bolling AFB, DC
Additionally, several of the Board Members and Consultants were engaged in efforts to enhance the oversight of the Foundation, the way we communicate, and how we can support you better.  This included but was not limited to:
– Board Member and Chair of the Legacy Paver Program, Rick Ramirez re-imagined the entire paver program with new website, new offerings, and new prices, to be launched right after the first of the year
– Secretary Joan Lopez moved the Foundation from on Lackland to a new space in the AFFCU Branch just outside the Valley Hi gate of JBSA Lackland
– Treasurer Ray Cornish took us through a complete and very extensive audit, passing it with no findings or irregularities, ensuring we remain responsible and accountable stewards of your assets
– Vice President Al Herring secured a new storage and organization system to better account for and organize our collection of enlisted heritage artifacts
– Laura Villareal led the Kick-Off of the Oral History Project, the largest initiative to date, to collect and organize stories and testimonials from Airman past and present
In closing, let me leave you with a few thoughts: Through all the shifts, changes, and adjustments during 2021, stability has been maintained. The Foundation Board Members, Committee Members, and Volunteers have shown an even greater level of commitment and dedication to the mission, vision and cause; ensuring the Foundation's support of the dream remains an effort worth being a part of, to advocate for, believe in, and continually renewing a commitment to supporting the Airman Heritage Experience, which includes the Airman Heritage Museum, the Airman Heritage Training Complex and other heritage-related activities, coming to you at two locations on Lackland and Port San Antonio.
Each and every day, we are focused on, committed to, and passionate about gathering, documenting, displaying, preserving, and honoring the history, heritage, culture, traditions, and legacy of enlisted airmen.  And I would be remiss if I did not acknowledge the AFFCU…. thank you for being and remaining a steadfast partner in our journey as you have been for over 10+ years.
And, To ALL Airmen, past and present; the story of your journey is singularly unique, as different as a fingerprint. We want to know about it, so the Foundation can tell it, share it, and celebrate it because it's that important.  Help Us "Build the Dream".
We thank you for your membership, contributions, donations, and stewardship in support of this cause; remembering to also consider volunteering, serving on the board, and/or giving to CFC# 68584.
Sincerely,
Timmothy M. Dickens, CMSgt, USAF (Ret)
President, Airman Heritage Foundation, Inc.