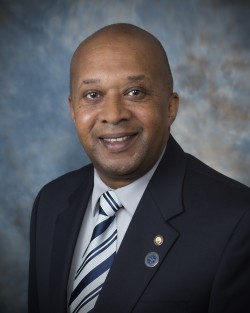 The past year has been many things to many people, and challenging is just one descriptor.  So, let me first start this year's annual message by thanking the Board of Directors, Committee Members, Volunteers, all our members, advocates, and donors who have continued to support our cause of capturing and maintaining the most accurate account of the history, heritage, traditions, culture and legacy of Enlisted Airmen and that it remains as our never ending priority.
We said farewell to many supporters & advocates and welcomed senior leadership in the 37 Training Wing, the 502d Air Base Wing, Headquarters Air Education & Training Command, along with the new Air Force Chief of Staff, Gen C.Q. Brown and the 19th Chief Master Sergeant of the Air Force, JoAnne Bass.  I do want to take this time to personally thank Chris Dion and Dale Armwood as they transition from the board, for their commitment and dedication to the Foundation as Board Members.
Given COVID-19 restricted us from engaging in many of the activities and events this year, we still made significant progress in fine tuning our strategy, enhancing our messaging, and solidifying our resolve in making this effort a reality.  Of which, you will receive updates in the committee reports as the meeting progresses.
One of the significant highlights of this year was participating in the Air Force Sergeant's Association Professional Airmen's Conference and sponsoring the Awards to recognize:
– MSgt Shannon Tabor – First Sergeant of the Year 2019
– TSgt Jarad D. Hudgies Jr. – Base Honor Guard Manager of the Year 2019
– TSgt Meldion Shehu – Base Honor Guard Member of the Year 2019
Additionally, I graciously and humbly accepted the AFSA Americanism Award for 2019 and want to say we truly appreciate our connection with such a strong, strategic partner having a like-minded focus, where AFSA has been and continues to  be advocates for improved quality-of-life and economic fairness to support the well-being of our enlisted members and their families and we as a Foundation, who continue our efforts in preserving and honoring the history, heritage, legacy, sacrifices, and commitment of those enlisted airmen and their families; past, present, and into the future.
In closing, let me leave you with a few thoughts: The Foundation Board Members, Committee Members, and Volunteers remain as a synergistic part of a community who advocate for, believe in, and continually renew our commitment to supporting the Airman Heritage Experience, which includes the Airman Heritage Museum, the Airman Heritage Training Complex and other heritage-related activities. Each and every day, we are focused on, committed to, and passionate about gathering, documenting, displaying, preserving and honoring the history, heritage, culture, traditions, and legacy of enlisted airmen.  And I would be remiss if I did not acknowledge the AFFCU…. thank you for being and remaining a steadfast partner in our journey as you have been for over 10 years.
And, To ALL Airmen, past and present; the story of your journey is singularly unique, as different as a fingerprint. We want to know about it, so the Foundation can tell it, share it and celebrate it because it's that important.  Help Us "Build the Dream".
We thank you for your membership, contributions, donations, and stewardship in support of this cause; remembering to also consider volunteering, serving on the board, and/or giving to CFC# 68584.
Sincerely,
Timmothy M. Dickens, CMSgt, USAF (Ret)
President, Airman Heritage Foundation, Inc.