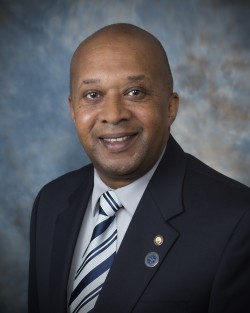 Let me start this year's annual message by thanking the Board of Directors, Committee Members, Volunteers, all our members, advocates, and donors who have continued to support our cause of capturing and maintaining the most accurate account of the history, heritage, traditions, culture and legacy of Enlisted Airmen and that it remains as our never ending priority.
For 2019, the year started out with our collaborating with SAAHF and AETC towards developing a way ahead in our role with the exploration of an education partnership agreement.  This also led us to bringing Ms. L. Palmer on board to assist with reviewing current foundation policies, procedures, and processes; while developing a more robust strategic plan which aligns with current and future initiatives.  While this took the better part of the year, the Board reached even greater levels of clarity as to what our mission, vision, values, guiding principles, goals, and objectives were and remain.  We also welcomed our newest Board member, Chris Dion, and are thankful he has chosen to be a part of helping us "Build the Dream".
In the spring, Rick Ramirez, Paver Manager, partnered with a local vendor to professionally install all new paver orders, streamlining the process from order to install down to less than 90 days.  The Foundation also hosted the 6th Annual Golf Tournament at Ft Sam Houston where once again, Christian Okoye, former K.C. Chiefs Running Back, spent time with 70+ Airmen and Sponsors for an incredible day of fun. Additionally, a Special Meeting was conducted based on the need to bring our By-Laws into complete and full compliance. Many thanks to Dan Rogers and Doc McCauslin for their insights, guidance, and assistance in identifying the issue and ensuring our adherence to non-profit standards.
By mid-summer, we were adjusting to the departure of John Worthington, who led our marketing initiatives and want to thank him for his support, commitment, and dedication to the foundation. During this time, we saw another change of command at AETC and welcomed Lt General Webb. We also witnessed the unveiling of the Military Working Dog Postage Stamp, by the U.S. Postal Service, at the Military Working Dog Teams National Monument where MSgt Kaun and his team did an incredible job putting on the event.  Additionally, we attended and deepened our relationship with AFSA at the AFSA Professional Airmen's Conference by sponsoring the First Sergeant of the Year Award and recognizing the need to support the Spouses Event at the First Sergeant Academy Graduations.
As fall approached, Dave Shultz, Education and Outreach Program Manager, was busy returning from or preparing for events showcasing historical uniforms and artifacts throughout the country to include events in Colorado, multiple locations in Texas, and Louisiana. This in no small part was in conjunction with the assistance of Bill Manchester, Fernando Cortez, the Museum Staff and Volunteers; by recognizing, acknowledging, and sharing the story of the countless sacrifices, significant achievements of enlisted airmen and being a source of education about their rich history.
In closing, let me leave you with a few thoughts: The Foundation Board Members, Committee Members, and Volunteers remain as like-minded individuals wanting to be a part of a community who advocate for, believe in, and continually renew our commitment to supporting the USAF Airman Heritage Museum, the Airman Heritage Training Complex and other heritage-related activities in gathering, documenting, displaying, preserving and honoring the history, heritage, culture, traditions, and legacy of enlisted airmen.  Many thanks to AFFCU, our community partner which continues to drive Foundation membership and financial support.
And, To ALL Airmen, past and present: the story of your journey is singularly unique, as different as a fingerprint. We want to know about it, so the Foundation can tell it, share it and celebrate it because it's that important.  Help Us "Build the Dream".
We thank you for your membership, contributions, donations, and stewardship in support of this cause. Please remember to also consider volunteering, serving on the Board, and/or giving to the Foundation through CFC# 68584.
Sincerely,
Timmothy M. Dickens, CMSgt, USAF (Ret)
President, Airman Heritage Foundation, Inc.