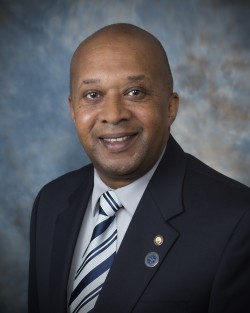 Fellow Members, Supporters, Allies, Advocates, and Champions of the Airman Heritage Foundation,
Emerging through the fog of COVID, I am happy to announce that the Foundation has started the transition into elements of a "New Normal" where we are more committed, better prepared, significantly stronger, and extremely focused on the mission, vision, values, and our guiding principles.
The Foundation's support of the dream is alive and well; and thanks to the work of Ms. Alex Musa, Dave Shultz, as well as Bill Manchester and his Team, they have ensured the gathering, documentation, and display of the history, heritage, traditions, culture, and legacy of Enlisted Airmen remained ongoing. This also included the planning of how we will start implementing the addition of capturing the history of U.S. Space Force's Enlisted Guardians.
But before I share a few thoughts regarding our journey this past year, let me first take a moment during this year's annual message, as I always do, by thanking the Board of Directors, committee members, volunteers, all our members, advocates, and donors who have continued to support our cause of capturing and maintaining the most accurate account of the history, heritage, traditions, culture, and legacy of Enlisted Airmen and Guardians. It remains as our never-ending priority.
This past year, we said farewell to Lt. General Brad Webb, Commander, AETC, a staunch ally from day one and a continuing advocate as he transitioned into retirement. He and CMSgt Thompson, AETC Command Chief, were not only supporters of AHF initiatives but were vocal champions when presenting to large and small audiences. We also welcomed Lt. General Brian "Smokey" Robinson, the new AETC Commander, who embraced our mission and now serves as the new voice for the Foundation, with Chief Thompson by his side.
Last year during our annual meeting I introduced everyone to Dr. Chaunte Hall, Founder of the Airman Heritage Group, whose Strategic Partnership will now create an alumni organization for all those who received a degree through the Community College of the Air Force as well as those who received some college credit based on course work from skill levels in the Career Development Courses (CDC's). More to follow soon on that initiative. . .
This year a new strategic partnership was forged with the Heritage and Learning Center Foundation, led by Mr. Jack Hebdon and other incredible board members. Their focus will concentrate on what originally started as Lackland 2030 but is now referred to as Lackland Next. Their concentrated effort is geared toward raising the funds necessary to bring the Airman Heritage Foundation Dream to life.
One of the significant highlights of this year was attending and participating in the Air Force Sergeant's Association Professional Education and Development Symposium (PEDS) and sponsoring awards to recognize:
2021 AFSA USAF First Sergeant of the Year:
MSgt Crystal Bateman
Robins Air Force Base, Georgia
2021 AFSA USAF Base Honor Guard Manager of the Year:
TSgt Rian Hudson
Joint Base Elmendorf-Richardson, Alaska
2021 AFSA USAF Base Honor Guard Member of the Year:
SSgt Chase Flemming
McConnell Air Force Base, Kansas
USAF Honor Guard NCO of the Year 2021:
SSgt Jeffrey C. Herron
Bolling AFB, District of Columbia
USAF Honor Guard Airman of the Year 2021:
SrA Brooke E. Sanchez
Bolling AFB, District of Columbia
Additionally, several Board Members and consultants were engaged in efforts to enhance the visibility and capabilities of the Foundation, the way we communicate, and how we can support you better. This included but was not limited to:
– Laura Villarreal successfully led us through the Oral History Project, the largest initiative to date, to contact over 100K individuals to collect and organize stories and testimonials from Airman and families, past and present. In conjunction with the Air Force's 75th Anniversary, digital and printed versions of information gathered will be made available to those who participated.
– Board Member and Chair of the Legacy Paver Program, Rick Ramirez re-imagined the entire paver program with new website, new offerings, and new prices, launched after the first of the year. He continues to work on upgrades and options so given the opportunity give the gift of a paver.
– Treasurer Ray Cornish once again, took us through a complete and very extensive audit, passing it with no findings or irregularities, ensuring we remain responsible and accountable stewards of your assets and resources.
– Dave Shultz and Ms. Alex Musa initiated and participated in several Education and Outreach initiatives, locally and out of town, sharing the message of the Foundation once again, in a more engaging and interactive way.
In closing, a few quick thoughts: Back to "Normal" does not exist as we realized in 2022. Creativity, innovation, and forward thinking was necessary to pivot in the most appropriate direction. Although it felt unnatural at the time, the Foundation Board Members, committee members, and volunteers have shown an even greater level of agility and flexibility in the way we look toward the future while making sure we stay focused on staying true to the mission, vision and cause; ensuring the Foundation's support of the dream remains an effort worth being a part of, to advocate for, believe in, and constantly reaffirming a commitment to supporting the Airman Heritage Experience, which includes the Airman Heritage Museum, the Airman Heritage Training Complex and other heritage-related activities, and the Learning Center, coming to you soon at two locations on Lackland and Port San Antonio.
Relentlessly, we are focused on, committed to, and passionate about gathering, documenting, displaying, preserving, and honoring the history, heritage, culture, traditions, and legacy of enlisted Airmen and Guardians. I would be remiss if I did not acknowledge the military and civilian leaders at the 502d Air Base Wing, the 37th Training Wing, the City of San Antonio, surrounding communities, and civic leaders . . . thank you for being and remaining steadfast partners in our journey as you have been for more than 10 years.
To ALL Airmen and Guardians, past and present: the story of your journey is singularly unique, as different as a fingerprint. We want to know about it, so the Foundation can tell it, share it, and celebrate it because it is that important. Help us "Build the Dream."
We thank you for your membership, contributions, donations, and stewardship in support of this cause; remembering to also consider volunteering, serving on the board, and/or giving to CFC# 68584.
Sincerely,
Timmothy M. Dickens, CMSgt, USAF (Ret)
President, Airman Heritage Foundation, Inc.