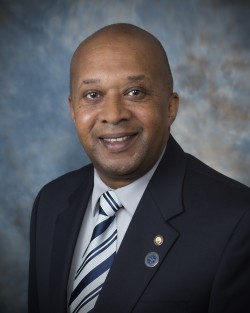 As I typically do in my annual message, I want and need to start by thanking the Board of Directors, Committee Members, Volunteers, all our members, advocates, and donors who have continued to believe in our cause of capturing and maintaining the most accurate account of the history, heritage, traditions, culture and legacy of Enlisted Airmen and that it remains as an ongoing priority. For 2018, overall, it has been a year of change, growth, insight, and of recent days, time for reflection.  I only mention the reflection part because I and the Board Members entered into a dialogue recently, with individuals beyond the structure of the Foundation; giving us an opportunity to pause and really think long and hard about what our purpose as a Foundation is and whether we were remaining true to our original intent.  To this, I say YES, without any reservation or hesitation. Additionally, this prompted us to review, reflect, readjust, and reaffirm the Foundation's mission, vision, guiding principles, goals, and objectives.
This, in no small part, was done while we said farewell to key leaders at AETC, 502d ABW, 37th TRW, and the AHM; while pleasantly welcoming the new leadership teams in these critical positions.  Additionally, we regretfully accepted Rick Riney's resignation as Vice President of the Foundation, given his preparation and move away from San Antonio; but welcomed CMSgt (ret) Al Herring and MSgt (ret) Keith Reed, AFSA Executive Director, as our newest Board Members.
While reviewing the past year, there were several events which come to mind.  Rick Ramirez, Legacy Paver Program Manager, put the program back on course by gaining the assistance of students from both the Rogers Airman Leadership School and Gaylor NCO Academy in replacing over 2,000 old and faded pavers with new, sealed, weather resistant pavers; adding the perfect touch to the completion of Phase 1 of the sidewalk project around the parade field at JBSA-Lackland.  Additionally, Rick also worked with Scout Troup 911 that completed a beautification enhancement project at the National Military Working Dog Team Monument, saving thousands of dollars in restoration costs.
In our reflection of the past year and in recent days, the Foundation will continue to focus on four areas; Increasing Awareness of the US Air Force and USAF Airman Heritage Museum, Educating current and future airmen and the general public, Creating a learning and developmental platform, and Supporting the USAF Airman Heritage Museum and USAF Airman Heritage Training Complex. This will remain consistent with agreements and strategic partnerships the Foundation has with HQ AETC, the Command History Office, the 502d ABW and the 37th TRW.
The Foundation has had to readjust slightly, with the arrival of new personnel in key positions throughout the command and at AETC/HO; restructuring of the organization and the redefining of their focus, overall mission, and strategic plan for the future.  This also included realigning the Enlisted Character Development Center's mission under AETC while redefining the educational and outreach areas of the Foundation. We recognize the need for being open-minded and flexible; while ensuring we are mindful of the overall purpose of our existence and the desire to remain transparent, in support of a cause greater than ourselves.
I am going to close as I always do; leaving you with a few thoughts: The Foundation Board Members, Committee Members, and Volunteers remain as like-minded individuals wanting to be a part of a community that advocates for, believes in, and reaffirms our commitment to supporting the USAF Airman Heritage Museum, the Airman Heritage Training Complex and other heritage-related activities in gathering, documenting, displaying, preserving and honoring the history, heritage, culture, traditions, and legacy of enlisted airmen.
And, To ALL Airmen, past and present; the story of your journey is singularly unique, as different as a fingerprint. We want to know about it, so the Foundation can tell it, share it and celebrate it because it's that important.  Help Us "Build the Dream".
We thank you for your membership, contributions, donations, and stewardship in support of this cause; remembering to also consider giving to CFC# 68584.
Sincerely,
Timmothy M. Dickens, CMSgt, USAF (Ret)
President, Airman Heritage Foundation, Inc.