A Small Corner of Lackland AFB Holds a Wealth of Military Aviation History
Tucked in a far-off corner deep inside Lackland Air Force Base sits a trove of local aviation history. The U.S. Air Force (USAF) Airman Heritage Museum boasts a collection of more than 4,000 artifacts chronicling the history of military aviation from 1907 to today.
Getting to this somewhat unknown gem of military history might be more onerous than most museum jaunts. Patrons will first have to go to the base's visitor center on Luke Boulevard to sign in – sharing a room with new recruits signing in for their Basic Military Training. There, they'll hand over their driver's license and undergo a mini background check before receiving an official pass, which allows entrance to the base. Then it's a short trek back down the winding Lackland streets to the corner of Nellis Street and George Avenue, where the museum sits.
The lengthy check-in, ticketing and travel process feels worth it when three fighter jets parked in front of the museum come into view.
An F-86A Sabre, used primarily in the Korean War; an F-84F Thunderstreak, popularized by the USAF Thunderbirds aerobatic team; and the supersonic F-105D, used extensively in the Vietnam War, seemingly protect the front of the building. They are among 40 examples of decommissioned planes on the base, with most displayed near the parade field on the other side of Military Highway.
Once inside, visitors are greeted by a bevy of free informational materials, including decade-specific brochures on the history of Lackland and copies of the JBSA Legacy newspaper that serves the three bases that make up Joint Base San Antonio: Lackland, Fort Sam Houston and Randolph Air Force Base.
A colorful two-part entryway mural by artist Roberto Rios, who served in the Training Services Division at Lackland, details the history of flight from the eagle-headed Assyrian god Ashur of 884 B.C.E. through the age of space exploration. Depicted are Renaissance artist Leonardo da Vinci's mechanical wings, hot air balloons, the Wright Brothers' first flight at Kitty Hawk, the Apollo missions, the first Skylab space station, and the fledgling Space Shuttle.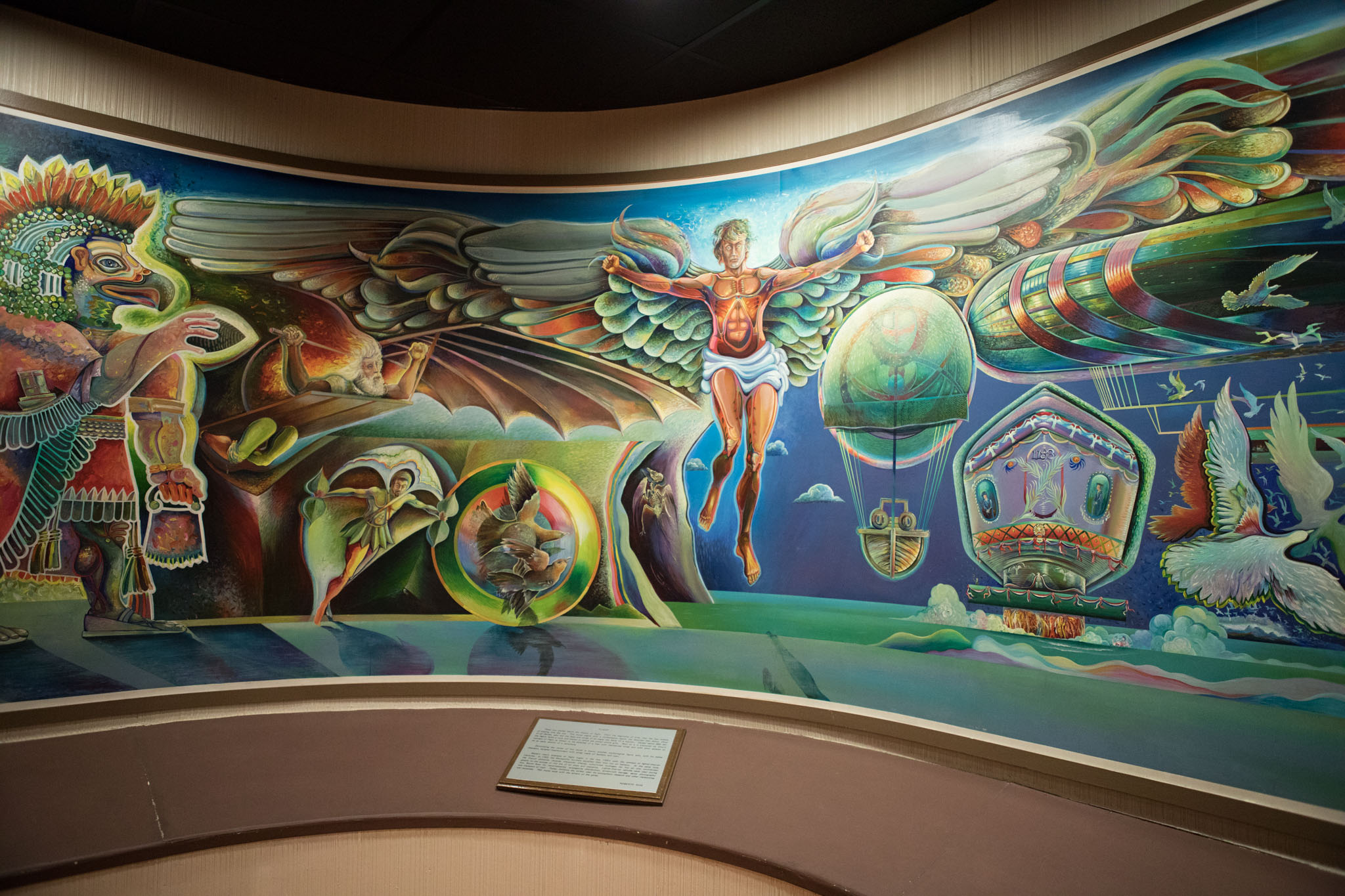 BONNIE ARBITTIER / RIVARD REPORT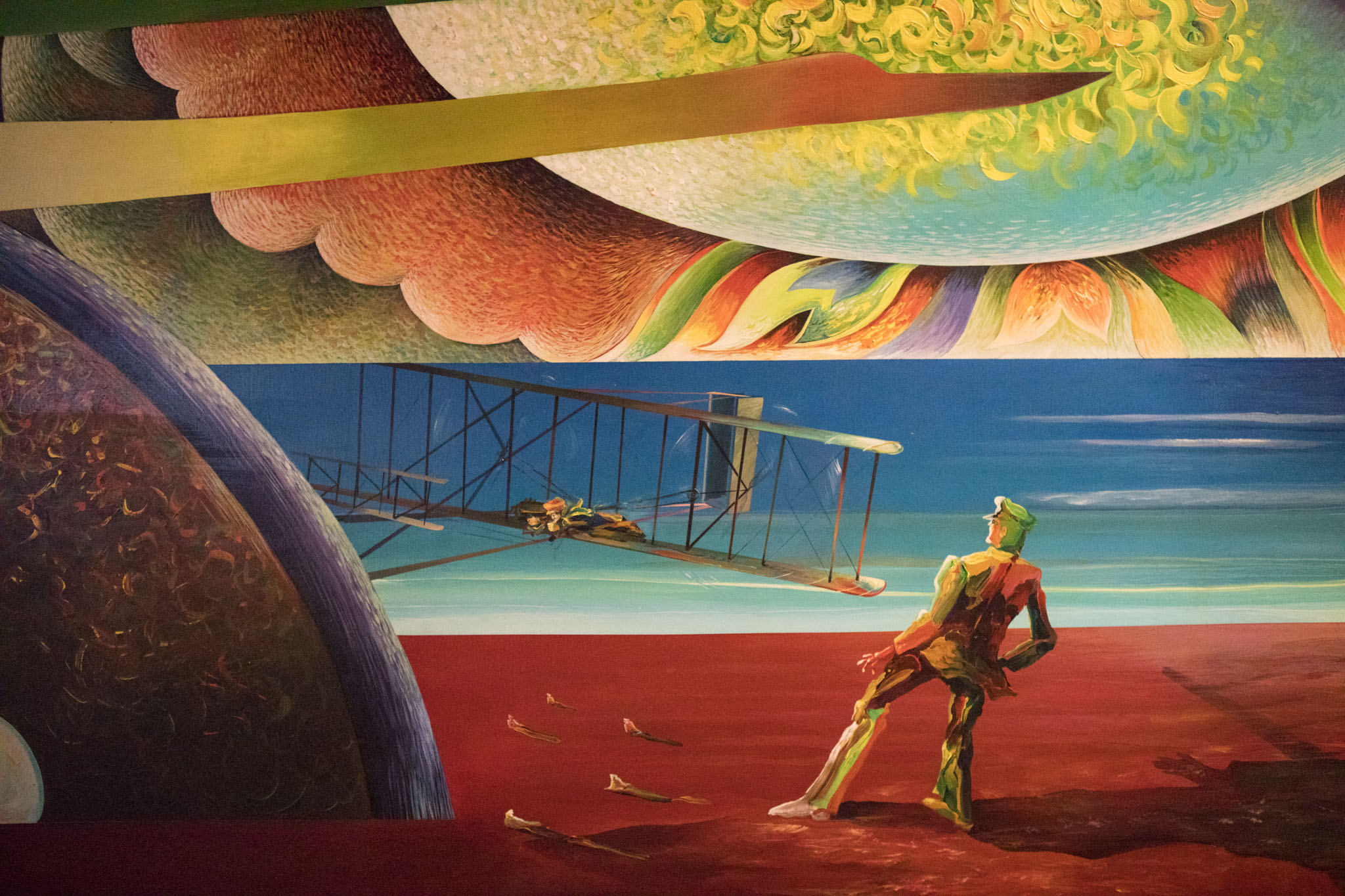 BONNIE ARBITTIER / RIVARD REPORT
Inside the museum proper, one of several display cases updates aviation examples to the present day, with highly detailed scale models of an MQ-1 Predator drone in common use today, and a sleek Lockheed SR-71 Blackbird reconnaissance jet with a top speed of 2,193 mph. These are among many encased scale models of aircraft from throughout aviation history, some detailing colorful wing patterns. Others are models of enemy aircraft USAF pilots battled against in various wars.
Among the 35 exhibits are several honoring the accomplishments of "Legendary Airmen," from Cpl. Edward Ward and Pfc. Joseph Barrett, the first two airmen enlisted in the U.S. Army Signal Corps new 1907 Aeronautical Division – a precursor to the USAF – to Tech Sgt. John Chapman and Senior Airman Jason D. Cunningham, who both gave their lives serving during Operation Anaconda in Afghanistan in 2002.
Other exhibits present the wooden skeleton of an early Curtis "Jenny" training propeller plane; an old replica barracks room with wood plank walls and double bunks; Airmen rations with chocolate, bouillon, and benzedrine sulfate for sleep prevention (to be used with caution, as the instructions warn); a World War II-era B-24 bomber flight simulator; and a newer exhibit honoring the enlisted Tuskegee Airmen.
Such details as the era-appropriate Cracker Jack box and Sheaffer Skrip fountain pen ink on the Airmen's desk were hunted down by one of the museum's board members, according to 89-year-old volunteer Larry Hilbrich. With 27 years of active service from 1947-1974 and extensive knowledge of USAF history, Hilbrich himself holds a museum's worth of Air Force history. He started his service before the Air Force itself came into existence, and before the museum opened in 1956 as the first of 12 satellite locations of the National Museum of the U.S. Air Force on Wright-Patterson AFB in Dayton, Ohio.
Hilbrich volunteers a few days a week and is on hand to offer a wealth of information about the museum's exhibits and his own experiences on various Air Force bases and locations around the world. Other volunteers from among training squadrons – airmen awaiting their assignments – help the staff of six that runs the museum, three of whom are service members. Civilians Bill Manchester (museum director), Stephanie Ritter (historian), and Fernando Cortez (curator) bring years of experience to ensure continuity as service members cycle in and out of their positions every two to four years.
The museum welcomes an average of 500-to-600 visitors per week, museum superintendent Senior Master Sgt. Sonjia Rodriguez said, mostly BMT graduates released after their coin ceremonies but still confined to base, who bring their families.
Its proponents, including Hilbrich, wish it was better known. A nonprofit founded to help support the museum, the Airman Heritage Foundation, has mounted its "Help Build the Dream" campaign to update the facility. The plan is to raise funds for a new, 85,000-square-foot building to replace the current 7,000-square-foot building by 2022, in time for the USAF's 75th anniversary. That building would be more readily accessible by the public, fronting Military Highway and with an entrance outside the base.
Meanwhile, Rodriguez looks forward to a new display, loaned by the national museum and set to open soon. A digital touchscreen will update the current display of WWII-era "Aircraft Recognition" cards used in training to help identify friends and foes by airplane visual profiles. Rodriguez plans to build an arcade-style box to house the game, which will be built by volunteers from Eagle Scout Troop 620, which frequently helps the museum build displays.
Hilbrich noted the museum's information does not focus only on pilots and their aircrews, but rather on the 260,000 enlisted USAF service members who support those often glorified positions. "About four percent of Air Force personnel are on flying status or part of an aircrew," he said, with an average of 30 people working in support of each aircrew.
Rodriguez said the most important mission of the museum is "just knowing what people do in the Air Force … just to know what we've been through, where we started and where we are now. It's a huge change. Just to see the path that was taken to get here is interesting," she said, and after a year on the job, she learns something new about her employer every day.
The USAF Airman Heritage Museum, at 5206 George Ave, is open to the public Wednesdays and Fridays 9 a.m. to 3 p.m., Thursdays 10:30 a.m. – 5:30 p.m., and Saturdays 10 a.m. – 2 p.m. Admission and parking are free. For more information, call 210-671-3055 or email foundation@myairmanmuseum.org.