Give Happy with the Combined Federal Campaign!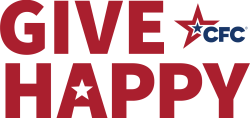 On September 1, 2023, the Combined Federal Campaign (CFC) officially opened for the program's annual giving campaign! Federal employees and retirees are encouraged to help change the word by supporting CFC charities that are dependent on your generosity.
The Airman Heritage Foundation (AHF) participates in this initiative annually to raise funds necessary to keep the organization operational so that we can continue to share the rich history and traditions of enlisted members of the United States Air Force and United States Space Force. AHF is grateful for your continued support! If you are a federal employee or retiree and you are interested in participating in the CFC, follow the directions below.
Online:
1. Visit GiveCFC.org and click DONATE.
2. Create an account or log in to your existing account.
3. Complete or update your profile.
4. Search for the charities you want to support. The AHF's CFC Code is #68584.
5. Make your pledge by selecting your designated charities and allocating funds.
Paper Pledge Form:
Prefer using pen and paper? You can complete a paper pledge form and fill it out using the instructions on the second page. CFC Paper Pledge Forms can be found here.  Submit it to your Keyworker or mail it directly to the CFC Processing Center: CFC Processing Center, P.O. Box 7820 Madison, WI 53707-7820.
For more ways to give, visit the "How to Give" page at the CFC website at: https://givecfc.org/donors/how-to-give.
Donations for this campaign will be accepted from September 1, 2023 through January 15, 2024. Give Happy with the CFC!